Click or tap the entries below for more information about each film.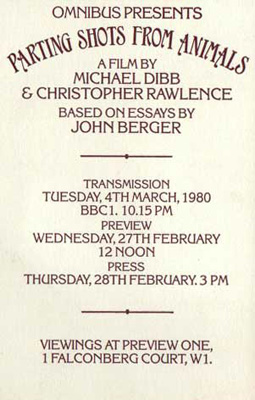 Parting Shots from Animals (Omnibus )
1980 60'
developed from essays by John Berger, in collaboration with Chris Rawlence.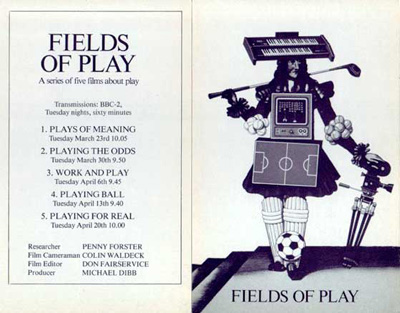 Fields of Play
1981-82 5 x 60'
series about the significance of 'Play' in every area of our lives, from learning and creativity to gambling and war games: 'Plays of Meaning'. 'Playing the Odds', 'Work and Play', 'Playing Ball', 'Playing for Real'.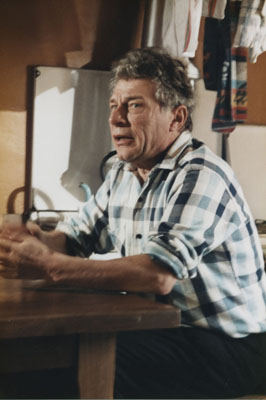 About Time
1983-85 Channel 4/3rd Eye 6 x 52'
co-devised and directed with Chris Rawlence, about the meaning, experience and our conflicting ideas of 'time': 'Time is Money', 'Time and a Half', 'Holy Days', 'Moonshine', 'Uncertain Times' and 'Once Upon a Time – with John Berger'.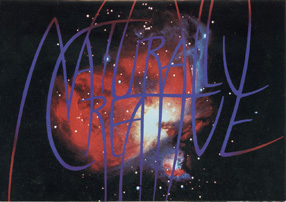 Naturally Creative
1986-87 Channel 4/DD 90'
feature length documentary exploring the origins of human creativity, in collaboration with the writer Peter Fuller.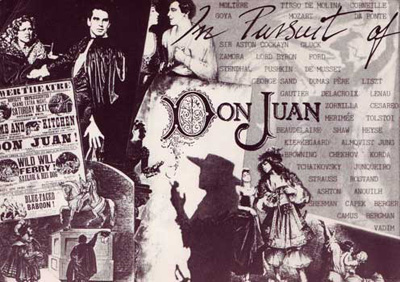 In Pursuit of Don Juan
1988-89 BBC 75'
exploring the origins of Spain's most potent cultural archetype and the many versions of his promiscuous after-life in European art, theatre and music.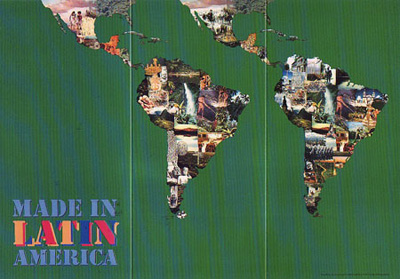 Made in Latin America
1988-89 BBC 8 x 60'
Series Producer of eight diverse thematic journeys through the cultures of a continent, presented through the voices, images, ideas and music of Latin Americans themselves: 'Dreams of a New World' (director Mike Dibb), 'The Heirs of Conquest' (director Mike Macintyre), 'Dictating Terms' (director Julian Henriques), 'States of Exile' (director Julian Henriques). 'City Limits' (directors Rossana Horsley, Mike Dibb), 'Love and Power' (director Rossana Horsley), 'Questions of Geography' (director Julian Henriques), 'Remembering the Future' (director Mike Dibb)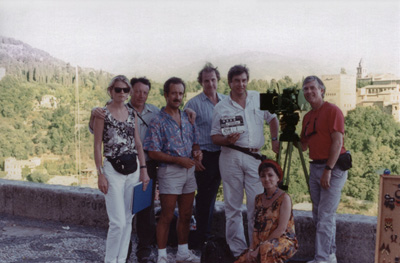 Mirrors of Paradise
1991-92 Channel 4/DD 52'
on the rich cultural legacy of Muslim Spain, made to commemorate the 500th anniversary of the fall of Granada.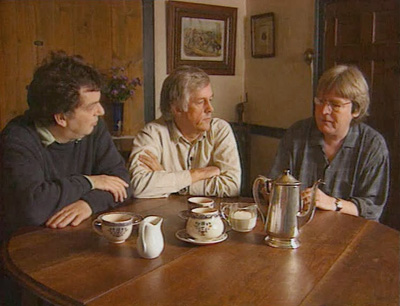 Typically British
1994 Channel 4/ BFI
co-directed with Stephen Frears, feature length documentary on history of British cinema, presented by Stephen Frears with Gavin Lambert, Alexander Mackendrick, Michael Apted and Alan Parker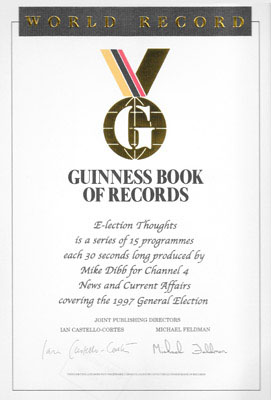 E-Thoughts
1997 Channel 4/DD 15 x 30 secs
provocative 30" interstitial ideas by Rowland Morgan for C4's 1997 General Election coverage. (Recognised by Guiness Book of Records as shortest documentary film series ever made!)